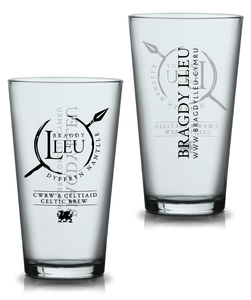 We regret we are unable to post this item via courier therefore it is available for local delivery or click & collect only. 
An officially branded Bragdy Lleu Welsh pint glass, marked 'PEINT'.
The best way to enjoy a pint of your favourite Bragdy Lleu beer.
It was the Stereophonics who sang "The beer don't taste the same without the name painted on my glass" - and when it comes to this conical shaped pint glass, we couldn't agree more!